Summer is here, and what better time to make a cold veggie dish with tasty homemade sauce? This recipe for zucchini pasta is very fast and easy to make. I recommend cutting the zucchini with a spiral slicer to achieve a more interesting shape, but slicing the zucchinis length-wise is great too. Your friends will love this!
Ingedients
2 zucchinis
2 red bell peppers, chopped
2 tomatoes, chopped
2 sun-dried tomatoes (preferably oil-packed)
1 clove garlic, pressed
Basil to taste
Oregano to taste
Salt to taste
3 oz olive oil
A pinch of cayenne powder
A pinch of ground black pepper
1 shopped basil leaf
Preparation Process
Cut the zucchini into thin noodles using a vegetable spiral slicer, or by peeling down the sides of the zucchini and place in a medium-sized bowl
Add the peppers, tomatoes, sun-dried tomatoes, garlic, basil, oregano, salt, olive oil, cayenne and black pepper to a food processor and process the ingredients until thoroughly combined
Pour the sauce over the zucchini noodles and serve immediately with a garnish of chopped basil.
Want to make this and need the written instructions? Just click here to download the full recipe.
In the market for a spiral slicer? This top-rated model cuts vegetables and fruits into curly, ribbon-like slices.  Get all the details here.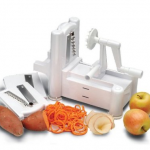 Amazon Auto Links: the template could not be found. Try reselecting the template in the unit option page.