Seeing $$$ When You Think Organic? 4 Tips for Keeping More in Your Pocket
You are here on our vegetarian cooking video site because you are interested in eating healthier. While there is much debate about whether  organic foods are better, the cost is one factor that deters us from even checking it out.
Don't let the cost keep you from trying it out. Here are 4 tips for saving money when buying organic food.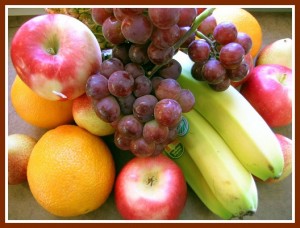 1. Search and identify places with affordable prices.  Look for an organic food store that is known for their great sales or one that is known for their everyday low prices. If you have a number of stores to choose from, be sure to visit them all. This can help you get a good idea as to which stores have the best prices, as well as the largest product selections. When looking for organic food sales, look for store sale fliers or search online to see if they are posted on a store's website. This will save travel time and costs, since you can see ahead of time what is available at what price.
2. Use organic food coupons. Unfortunately, this can sometimes be difficult to do, as organic food coupons can be difficult to find, but it is possible, with a little effort. For starters, use the internet. Online coupon websites may have organic food coupons available for printing. Also, check the online websites of companies that make or sell organic foods, as you may also find printable coupons online. You should also check your local newspapers, especially on the weekends. Since organic foods appear to be increasing in popularity, many coupons are now appearing in newspaper inserts. Also, look for coupons that may be offered in-store.
Here are a few more ideas for saving.  Coupons for organic items  can sometimes be hard to find in the newspaper, but many store chains feature at least one organic coupon each week. If possible, buy the weekend paper and examine it in your car. If you see a coupon or a number of them for organic foods, go back and buy another newspaper. Most expiration dates are set so that you can make two or three trips to the store to use your extra coupons before they expire. Also, ask friends or family members to be on the lookout for organic food coupons. If they don't eat organically themselves, they can pass the coupons on to you.
3. In addition to shopping for organic foods locally, the internet should also be explored. You can and should shop online for organic foods or at least browse through your options. A number of websites sell organic foods. These can be online stores or product manufacturers that have mini-stores on their own websites. This is great because you can compare products and prices from different websites, all in a few minutes.  For example you can find great organic items on Amazon. Just click here and run a search for the item you are looking. You can also do a search under the "grocery" category to see what is available. Be sure to keep an eye on the cost of shipping, as you don't want to pay more than you'd spend if you bought locally.
4. Don't forget your local, traditional  grocery stores. Most supermarkets have organic food sections and the larger chains usually have their own store brand of different organic items. They may also have great sales on their products. In fact, you can examine store sale fliers or the internet as a great way to find affordable natural foods, without physically having to shop around yourself.
Happy organic shopping!
Amazon Auto Links: the template could not be found. Try reselecting the template in the unit option page.